Indigenous Samoan Partnership to Initiate Research Excellence (INSPIRE)
INSPIRE is a five-year federally funded program by the National Institute of Minority Health and Health Disparities, awareded to the American Samoa Community Cancer Coalition (ASCCC). INSPIRE- Colorectal Cancer (CRC) Literacy aims to:
(1) Establish capacity and resources essential to conduct scientific research in American Samoa, and
(2) Assess CRC literacy in American Samoa, with emphasis on indigenous Samoan

 adults age 50+ years.
INSPIRE supports a health research project that aims to increase colorectal cancer screening literacy among American Samoans.
INSPIRE Research Symposium
Registration for the symposium on October 2nd and 3rd, 2019 has now opened.  Learn more about the INSPIRE program and the results of health literacy and colorectal cancer knowledge, attitudes, beliefs, and much more in American Samoa.  For more information on the symposium and registration, click here.
INSPIRE Research Training Program:
This program combines the need to research health literacy and its impact on Colorectal Cancer screening. There are two phases in the INSPIRE program.
Phase 1 is training a research team in the basic fundamentals of research and specific areas of interest related to INSPIRE. Phase 2 is implementing the research program. Researchers will use the Short-Test of Functional Health Literacy in Adults (S-TOFHLA), translation and adaptation, focus groups and key informant interviews to assess the community's health literacy level.
Wear Blue (United for a future free of colon cancer)
March is Colorectal Cancer (CRC) Awareness month. March 3rd of each year is designated as "Wear Blue". The color is the national recognized blue star that represents the eternal memory of the people whose lives have been lost to CRC and the shining hope for a future free of colon cancer.
INSPIRE Library (or archives)
Collection of primary material related to health literacy, colon cancer, research studies, surveys, video clips, photographs, books, public service announcements, newsletters and advertisements.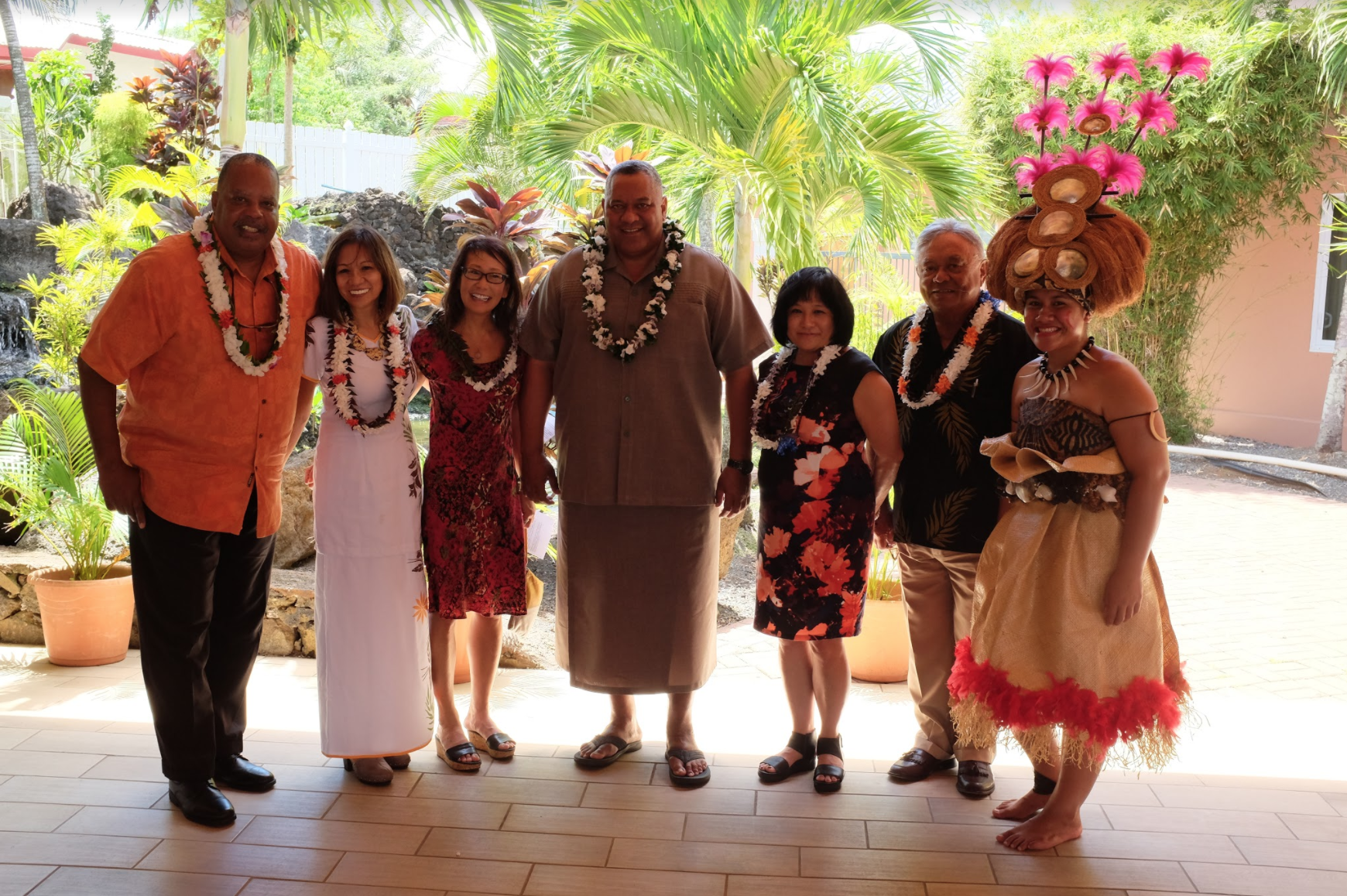 From L-R: Dr. Kevin Cassel (INSPIRE Co-Investigator), Dr. Lana Kaopua (INSPIRE Co-Investigator), Dr. Angela Sy (INSPIRE Co-Investigator), Honorable Lemanu P. Mauga (Lt. Governor), Dr. Katherine Tong (INSPIRE Co-Investigator), and Dr. Victor Tofaeono (INSPIRE Co-Principal Investigator).  Not pictured: Mrs. Luana Yoshikawa-Scanlan (Co-Principal Investigator), Mr. Va'atausili Tofaeono (Program Director), and Mrs. Salote Aoelua-Fanene (Community Liaison).